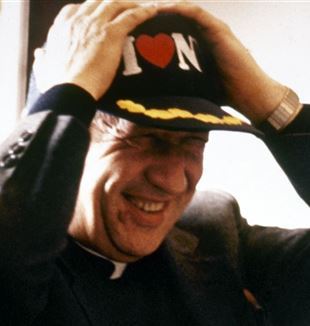 Where Life Happens
Vanessa's search from Silicon Valley to Italy to Los Angeles. And that day at Giussani's funeral…"The experience I was having was enough for me to understand that the faith he was witnessing was something reasonable." From February Tracce.
Vanessa speaks Italian perfectly. Her Californian accent, mixed with a Florentine cadence, makes it something unique. As is her story, which began fifty years ago in Saratoga, a small town in Silicon Valley, then uprooted to Italy, first to Milan and then Florence, when Vanessa was just a little girl. "I was modeling for several Italian agencies. It was the time of the "Milano da bere", but I couldn't fall in love with Italy. I felt that it was so different from America, and I was homesick." In fact, she has always felt this homesickness, ever since her parents separated when she was a child, after which she went to live with her father. "When I was seven I had my first panic attack; I was terrified that my father would die. Crying, I said to him, 'How can I never see you again?' When I was nine, I thought I would quell my anxieties by deciding to go live with my mom in Los Angeles.

But the pain followed me there as well." During her years at high school, she involved herself in a thousand things, looking for something to help her. She met a group of young Protestants and one Easter decided to go away with them. "It was an Easter Project, a kind of camp where they alternated between prayer and volunteer activities. I was very happy." But at the end of the camp, before going home, when the kids were asked to step forward if they wanted to let Jesus into their hearts, Vanessa didn't budge. "While everyone was taking that step, I felt like I couldn't really do it. How could I guarantee this on my own? Jesus, so connected to my feelings at the time, remained something uncertain."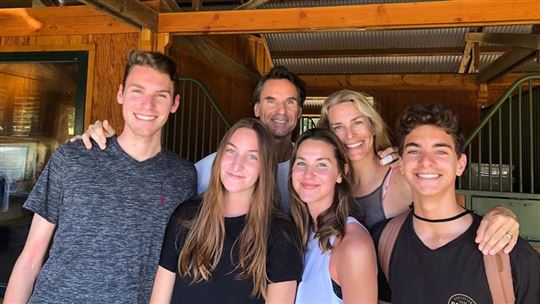 When she was 19, on the beaches of Versilia, she met Simone. The two fell in love. He also had a restless character, and paradoxically, meeting the girl of his dreams plunged him back into his restlessness. One day, a friend invited him to a CL vacation. "He had called me in New York, where I had moved for work, to tell me he was leaving.... I thought, 'That's it, I'm not enough for him anymore. It's over.'" Simone returned home and slowly Vanessa saw him change; he became more and more attached to these new friends that she also began to hang out with in Italy. "I was used to the catwalk environment, and those guys who discussed politics, sang together, organized vacations with three hundred people seemed alien to me." One evening Simone went to pick up Vanessa at the airport on her way back from the United States. In the car, the girl noticed that he was taking a different route. "You're not coming over tonight," he told her as he parked in the center of Florence. "I found you a place to live in an apartment of university students. Another American girl also lives there. This path can become yours too, if you wish. You can't continue being just my girlfriend." Vanessa looked at him with tears in her eyes without understanding anything. But then she became overwhelmed by this life that was so different: "They were special people, they enjoyed everything in life. That was the happiness I had wanted to find since I was a child. And then they loved me." They helped her find a job as a secretary at the university. Then, when she had to undergo major surgery, they took shifts to make sure she was never left alone. "In that hospital bed, I realized everything. I said to myself, 'Now I'm ready to marry Simone.' For these people I have met, for this different life that springs from the faith and charism of Fr. Giussani.'" In the church of Santissima Annunziata, at the age of 23, Vanessa received Baptism and her First Communion. It was 1995 and she finally felt at home.

She only heard Fr. Giussani speak once, at the CLU Exercises. "I didn't understand much. But the experience I was having was enough for me to understand that the faith he was witnessing was something reasonable, that held all my needs together. It was because of this that I became able to recognize Christ in life." After marriage, the couple had children. Vanessa began teaching English at the elementary school in Prato, where they live. Their provincial life, small children and the fact that her husband was always abroad for work, made her homesick again. She talked about it with friends from CL. Giovanni, a Memor Domini, said to her one day: "You can live in any circumstance, without dreaming of being elsewhere. But to verify this, you must do as the conquistador Cortés did when his men began to dream of returning to Spain, you must 'burn the boat.' That is, ask that every moment be everything."

But it was only a few years later that Vanessa grasped the depth to which those words had led her. It was at dawn on February 24, 2005; Vanessa was on the train to Milan. She had left early with her friends from Prato to attend Fr. Giussani's funeral. Simone was in China and she left her four children at home with a babysitter. "When we arrived at the Duomo, the church was already full and they crammed us into one section of the square. I don't know what came over me, but I slipped out and snuck inside, entering through a side door." There, leaning against a column beside the altar, she realized who that man was to her. "Among important people, politicians and close relatives, there was me, a girl from California, transplanted to Prato, invaded by gratitude for the joy-filled life I had discovered. I felt that I was in front of the father to whom I owed everything."

Today Vanessa and Simone and their four children live in Redondo Beach, near Los Angeles; Simone's job brought them back to the United States. "As soon as we arrived, we sought out some friends from CL. We started hanging out with them; many of them were Italian. They worked in American companies, they had American friends, and they spoke English with each other... They too had burned the boat. For them, too, 'home' is where the meaning of life happens."