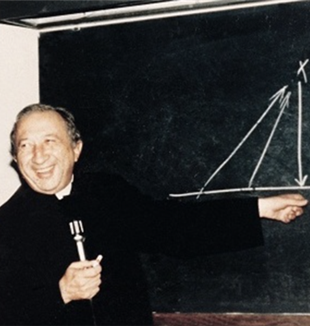 To Grow in Love for God and Others
Inviting the NYC CL community to present an exhibit on Fr. Giussani at his parish, Don Luigi shares what this experience was for him and for his parish community.
I had just arrived in New York a few weeks before and, at the invitation of friends of Communion and Liberation, I took part in the New York Encounter. Among the various exhibitions, I was very struck by the one dedicated to the Servant of God Fr. Luigi Giussani entitled "The trunk is rooted where the truth lies". This exhibition helped me to reflect and to understand, know and deepen some facets of the life and thought of Fr. Giussani. While I was visiting the exhibition, I immediately thought that, as it happened to me, it would be nice if even more people could get to know and appreciate it. So, at the end of the meeting, I asked those in charge if I could borrow the panels of this exhibition to then propose it in the church of Our Lady of Pompeii in New York, where I have recently been assigned.

The church of Our Lady of Pompeii is located in the heart of Greenwich village and is a reference point for many Italians who live in Manhattan and is also a destination for many visitors who pass through. It is also a reference and meeting place for the School of Community of the Communion and Liberation movement here in New York. We discussed and together decided to install the panels on the two side walls inside the church; we set a day for the opening of the exhibition with an attached Mass and set some days and times with guided tours offered by the movement's volunteers. After having carried out this event with the help of the various volunteers of the movement here in New York, I can say with certainty that the Lord inspired and guided me with this idea and intuition. Indeed, during the entire period of the exhibition, I was able to see the fruits! Many parishioners and many passing tourists who visited our church in those days showed their appreciation, their gratitude and their joy at being able to get to know the figure of Fr. Luigi Giussani through episodes of his real life and through some of his short and profound reflections. This exhibition was greatly appreciated by many also because it examines and expresses Fr. Giussani's conception of "the self in relation to the Other" through the sharing of testimonies and stories of those who have been reached by his charism.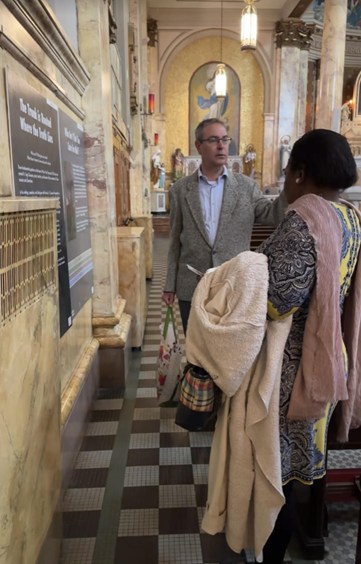 Visiting this exhibition was therefore not only an opportunity to discover, rediscover, or learn more about the figure of Fr. Giussani, but it was also and above all an opportunity for each visitor to make an inner journey of reflection on his own life, both human and spiritual. In fact, some parishioners have shown and shared with me how the path of the exhibition helped them to question themselves on their personal relationship with others and with God, on how and to what extent they too are capable of loving God and their neighbor in everyday life. The photos inserted in the panels are also very beautiful and expressive! They help to perceive the simplicity, serenity, and happiness of a man (Fr. Giussani) capable of transmitting through daily encounters and in everyday life the beauty and importance of being in relationship with others and with God.

I can say that the testimonies received from the visitors confirmed the positive fruits of the exhibition and the real objective in the intention of displaying it: that of helping everyone to reflect on their own human and Christian life through the help of a beautiful figure like that of the Servant of God Fr. Luigi Giussani, and to learn from his testimony of life and his words to grow more in our own journey of faith and in love for God and others.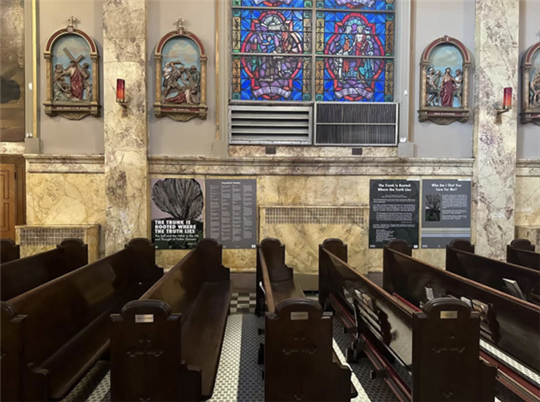 Don Luigi, New York, NY