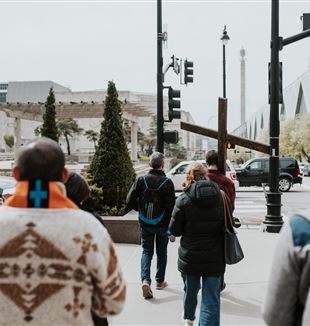 This Land is Your Land
Jackie shares what she has discovered in Kansas City.
Last November I met someone in Communion and Liberation, and he told me about his best friend who he had grown up with in the Movement. He described their childhood and the joys of having such close families, even today. My roommate also grew up in the Movement and so I started asking her about her friendships that were similar. These were friendships that spanned years and multiple state lines, yet they were incredibly close. I was amazed. It was from these conversations that I realized how much I wish I had that growing up, how much I wish I had that now, and how much I wished my future kids could have that too. So, I began participating in CL and immediately found an incredible quality that unites us. This quality is at its core, Christ, but there is something else, too, which is the shared seeking of Christ.




Every person I have met feels like an old friend, and I know I have found the community and family I want to be a part of. Our recent Community Day in Kansas made this clear for me. I did not know half the people there, but that did not matter. In a beautiful way I felt I had always known them and will always carry them with me. Our School of Community reading from the week was perfectly fitting for that occasion: "There can be no deeper and truer communion, no more beautiful and solid fraternity than sharing this faith and desire, this faith that is a desire for Him, a desire for and embrace of Him. There can be no greater reciprocal gift, no more indestructible unity, than reminding each other of the presence of Jesus who desires us, to give an answer to and satisfaction of our fundamental desire for life." Our shared faith and desire unites us without even a word being spoken.

From the very start of our Community Day, this reciprocation was evident, and it was something I had been searching for. We went on a hike, ate lunch, had Mass, went to some small town bar, and sang "This Land is Your Land" in a full car on the drive home amidst a pink sunset. There is a freedom here, in this Community, and it is a joy to call it mine.

Jackie, Kansas City, MO