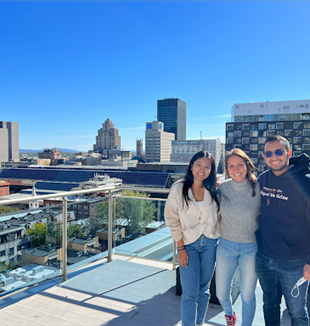 The Reawakening of My Heart
Having helped with the MedConference from its inception, Fedi is not spared the work of verifying that this place is necessary for her life.
The MedConference started as a way for Elvira, my mentor, to help some of us who were students at the time face the question of discerning a career in the medical field. What began as a simple desire to show us the beauty of caring for someone who is ill eventually turned into a yearly gathering of medical professionals who are interested in sharing a truly human approach to their work. Year after year I have faithfully attended and helped to plan the MedConference – as a medical student, a resident, and then as an attending. As the years went on, my need to affirm the beauty of my work has not decreased but life has gotten busier; I have children, I now have a leadership position in the hospital on top of working full time, etc. So when the invitation to the MedConference arrives, no matter how many times I have experienced and judged that I need this in my life, I initially say 'no' with my many excuses in mind. It is too far, it is too expensive, it is too complicated, my kids need me. The only real reason for that initial 'no' is the hardness of my heart, but even a hardened heart can crack if you accept to see the signs that reality sends your way.

Baby Anna was born a few days before the deadline to sign up for the MedConference. My two very dear friends from Montreal (where the conference was going to take place) have been married for years and have desired to be parents for a long time. After years of disappointment and pain, Anna made her way into the world – their "miracle baby" as they call her. I was not able to see Anna's parents, who I love, for over three years because of the pandemic. Although we have only seen each other approximately twenty times in our whole lives, over these years, and mostly as a fruit of what we have experienced together through the MedConference, they have become very close friends. As I looked at the picture Anna's dad sent me right as she was born, I understood that was the tug my heart needed to buy a flight. To say 'no' to the MedConference, would mean saying 'no' to an endless list of encounters, experiences, and ultimately miracles that have formed me over the years.

But let's be honest, someone's hardened heart can crack but it does not completely heal in one day. After signing up, all of a sudden, I sat back and realized that for the first time in years I was going alone. No one from Minnesota was coming with me, my Canadian friends would be home with their new baby and my other Quebecois friends' son had just tested positive for Covid. "No one is going" I kept saying to myself. As the plane took off, I was still in a state of sadness and questioning whether I had made the right decision. With a heart again hardened, I walked into the conference room and immediately saw Elvira, Jerry, Brian, Silvio, Theresa, Michelle, Cristiano, Natalina, Luca, Fran and I said to myself "they ARE here" as my eyes welled up with tears at the fact that oftentimes I am so stuck on what I think things should look like that I do not see what is right in front of me.

As the conference unfolded my heart was awakened. Dr Sweet's description of slow medicine was music to my ears, Cristiano's approach to his patients and medical teams is the reason why I ran for a leadership position, the way Lorenzo described mentorship is why I have a huge desire to continue to be mentored but also to mentor others. In between lectures I walked around the dining area with a heart that had become an open wound. I had lunch with a handful of first year medical students where Emilia and Michelle, two university students, introduced me to Sami – an agnostic Moroccan-Canadian student who trusted Emilia's friendship enough to show up to this conference he knew nothing about. From a simple question "why did you decide to be a doctor?" we engaged in a 90 minute conversation where they provoked me to share why I love what I do and I challenged them to go deeper into their answers. It was a heated discussion, filled with shared experiences and multiple disagreements but also a lot of common ground. By the end of it, I encouraged them to keep their questions open and to find a place and people that take those desires seriously.

On Sunday night, hours after the conference had ended, whoever was still around gathered at a bar in downtown Montreal. There I was introduced to Anne, a Canadian nurse who had attended the conference and who now resides in Minnesota. I discovered she lives just one hour away from me and shares the same desire to live her work to the fullest and hopes to have a community that can help her judge her experience of nursing. Together we decided to host a dinner in Minnesota to invite our friends in the medical field to come judge our work with us.

Possibly other people can tell stories of what happened at the actual lectures, because it was truly a moving experience to witness. For me the biggest miracle was watching my own heart soften and all my objections cease one encounter after the other. On the flight home, sitting in the same seat I sat on the way there when I was full of bitterness, I was in awe of my very same heart bursting with gratitude for all that I have received and with a huge desire to share what I had seen.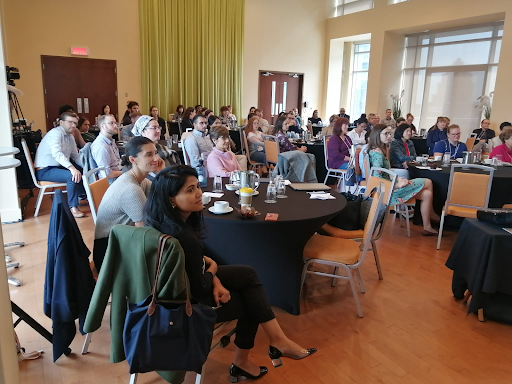 Fedi, St. Cloud, MN