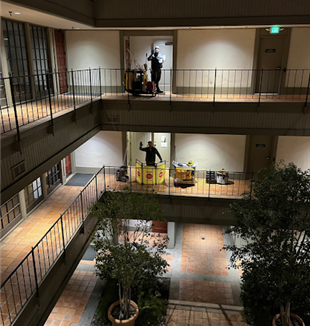 The Joy of Working and Building Lives
After the recent audience with Pope Francis, the co-founders of Los Angeles Habilitation House (LAHH) share what they have lived these fifteen years.
This year is the 15th anniversary for Los Angeles Habilitation House (LAHH), a small nonprofit in Long Beach, CA. If not for the generosity of a few Italian friends from the movement during a global recession, there might not be this story to tell at all. The inspiration for Los Angeles Habilitation House (LAHH) started to come together in February 2005, unofficially, during a lunch break conversation between Guido Piccarolo and Nancy Albin, cofounders of LAHH. By the end of the meal, they both understood their need to live life fully, to commit to work, to create a family, to participate in society, were all encompassed in the desire to fulfill their human need for truth, beauty, happiness, love, and justice. They believed, and still do, that only from this starting point – their common human need – is it possible to relate to other people in a way that loves them unconditionally, respecting their human dignity, without attempting to possess and use them.

Nancy shared, "When Guido and I started LAHH, we were tested and challenged through a multitude of circumstances. However, to be very sincere, the pandemic and 2021 were a deeper level of difficulty than even when we started. We had to take a step back and recalibrate our daily operations to respond to the needs of our customers, co-workers, and partners. One of the changes we made was a weekly schedule, instead of a monthly schedule. Our employees needed to be re-trained in all the custodial specialties and then to practice that training at work to help them build more confidence. We shortened training sessions but had them more frequently. We made more phone calls with our customers and partners, outside of regularly scheduled meetings, to listen and answer questions.

We started to look more at the smiles and eyes, happy faces, of our staff who kept moving and dreaming – who never gave up. We looked at the resilience of our employees, who worked throughout the pandemic, providing janitorial services to our customers. As we slowly got together in larger groups, we heard something positive and good from our employees. Many shared that they were better listeners, able to be more attentive to others, were more patient when there was a frustrating situation, or more willing to change a way of doing things to follow a new set of instructions. These are huge achievements any day of the week, let alone during a pandemic.

As we continued to adjust and change, we listened more than ever. We heard our co-workers share their difficulties, but also their dreams for the future and the new experiences they wanted to have. Listening to them was very helpful as we saw, firsthand, their goals were full of hope and optimism. By listening to our staff, we were able to help co-workers make career moves and achieve their goals. It was a very unexpected but welcome gift to us."

When Nancy and Guido heard the following words of Pope Francis at the audience on October 15, they understood how true they were from within the experience of the crisis the pandemic brought to their small nonprofit: "Times of crisis are times of recapitulation of your extraordinary history of charity, culture and mission; they are times of critical discernment and missionary relaunching in the light of the current ecclesial moment, as well as of the needs, sufferings and hopes of contemporary humanity. Crisis makes us grow." It was comforting to hear the Holy Father point out the discernment and relaunching that takes place during a crisis is not an instability to overcome or a storm to weather, but the way we will grow.

The Pope also told us, "We are all called to this: to be mediators for others in the encounter with Christ, and then to leave them to take their own path, without binding them to us." Guido shared that these words made them think about Brandon and what he shared with them in his last days with LAHH before starting a new job.

"In 2008, at 19 and a half, I went to an interview," said Brandon. "Then on my birthday, when I turned 20 years old, I got the news that I was a new hire of a small janitorial company called Los Angeles Habilitation House (LAHH). This might sound crazy or cliche, but that was one of the best gifts that I received on my birthday, knowing that I got a job. In that year, job searching wasn't so good. With any job, you're gonna have ups and downs. But it's you, as a person, it's on you to overcome those ups and downs and those obstacles. In 2016, I became the 5th recipient of the outstanding cleaning worker of the year and went on a trip to New Mexico to receive the award. In 2017, I became a team leader. At the beginning of 2020, I became a supervisor.

"But now, my janitorial journey has come to an end. I'm embarking on a new journey. I am blessed and grateful for the opportunities I was given, it was a platform to be able to help inspire people. LAHH is a company I'm blessed to have been with, and I was blessed to work on different sites with my coworkers: Torrance, San Pedro, and of course, my building in Long Beach. My message to the team: continue to inspire others, because you never know who's watching. To my bosses, Guido and Nancy: you both took a chance on me when nobody else would. I am forever and always grateful for everything that you have taught me."

In another example, Guido and Nancy recounted a recent conversation with the mother of a current employee who has disabilities. She said, he feels responsible, and is very proud of his position, and he has increased self-worth and he really likes the job. Hearing his mother use those words to describe how her son feels about his job jolted them because when Nancy and Guido work together with him, they are not aware of how he feels, as he does not verbally express much. Yet, even though they did not hear first-hand from their colleague, they are certain what he expressed to his mother is possible because he is happy and he is in a place where he is respected, loved, and supported as he is.

Pope Francis further told us during the audience, "Don Giussani had great sensitivity in respecting the character of each person, respecting their history, their temperament, their gifts. He did not want people who were all the same, and neither did he want everyone to imitate him, but rather that each person was original, as God had created them." Guido and Nancy see how this education from Fr. Giussani has helped them to approach their work relationships with more freedom, more awareness of the other, and an understanding of how meaningful it is to welcome the other as they are.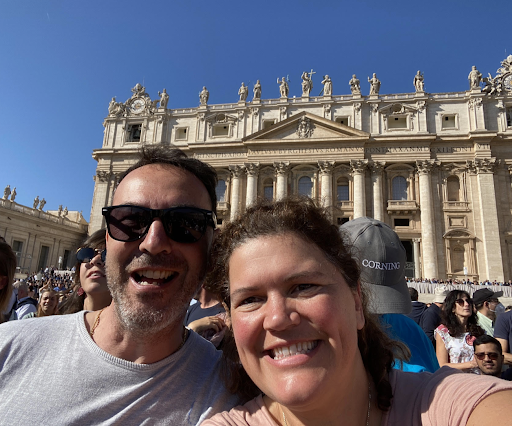 The Pope ended his address on October 15th with a request to accompany him in three prophecies: the prophecy for peace, the prophecy that indicates the presence of God in the poor, and the prophecy that announces the presence of God in every nation and culture. Guido and Nancy were moved by his humble request as they think back on their 15 years at LAHH working alongside people with disabilities, who are often forgotten, abandoned, and vulnerable. God's faithfulness to their desire that day in the coffee shop is awe-inspiring. To understand their work anew, in light of the Pope's request, has become for them an offering, an offering full of gratitude. It was an opportunity to be reminded that the presence of God in the poor has caused them to look at themselves, at each other, and at their employees with disabilities in a new way. In their work we witness how the new beginning the Pope indicated for us has already started to be experienced.