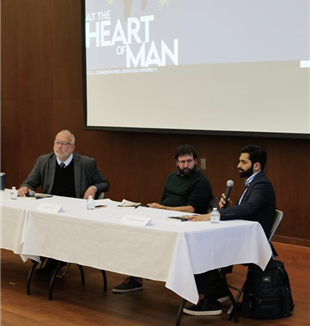 At the Heart of Man
CLU students in Washington, DC host a panel discussion on The Religious Sense.
Three professors, Chopin's "Raindrop" Prelude, a lively discussion on The Religious Sense, and a reception with a lot of lasagna to follow. On the evening of Wednesday March 31, Communion and Liberation University (CLU) students in Washington DC hosted a panel discussion on Luigi Giussani's The Religious Sense at the Catholic University of America. Speakers included Drs. Michael Hanby and Brandon Vaidyanathan, with Dr. Michele Averchi moderating. With about 80 in attendance, roughly half from the CL community, the event was characterized by both the joy of a common belonging and the newness of welcoming others.

Our work planning the event began with an invitation from our CLU leader, Fr. Pietro, to host a public presentation on The Religious Sense on the occasion of its revised translation, and to complement the work we have been doing in our CLU School of Community. Despite not knowing exactly what we were doing, we were excited to share this book with others, learn from our invited speakers, and work together. Early in the semester, CLU students organized two dinner meetings to prepare, and used these opportunities to plan the date and venue, decide who to ask to speak, and distribute responsibilities.

In the words of Dr. Averchi, the goal of the panel discussion was "to have a friendly and relaxed conversation about The Religious Sense, to see why it's interesting and why it matters." The Religious Sense proposes the fundamental pedagogical method of Giussani, the possibility of making sense of all of our experience in light of the "fundamental needs and evidences of the heart." Dr. Averchi shared a personal example of how "it is a book that can serve as the origin of many interesting realizations and practical steps in life." In high school, it was precisely the ideas of the religious sense, shared through a gym teacher, that encouraged him to take his teenage crisis of meaning seriously, and to recognize his questions as the most important thing he had.

The speakers contributed from different vantage points (theology, sociology, philosophy). Dr. Hanby described how the religious sense is "the deepest mark inscribed in our humanity and creatureliness, that 'God-shaped' opening that expresses itself in wonder and awe." Wonder as "our basic disposition in knowing" goes hand in hand with the awareness of "more," and that there is "another on whom I depend." Our religious sense helps us to recognize that what we are pursuing is boundless – this leads to the experience of reality as sign, and God as Mystery, communicating Himself to us in the positivity of love.

Even small things can rouse our desire for "truth, goodness, justice, and happiness" and sustain it, guiding our engagement with the world. Dr. Vaidyanathan described how the chance to have a quality samosa each day was a key experience that kept his hope alive in a difficult time of his childhood. He also pointed to the value of being confronted by the beauty of things that we don't make – nature, sunlight, greenspace – a fact demonstrated by sociological studies, and that seems to underlie the experience of scientists in general. Dr. Vaidyanathan shared how, five years after becoming Catholic, reading The Religious Sense helped him to see the value of his Hindu roots, and connect more deeply with his parents.

A central theme was the need to hold together question and answer, desire and response. Educationally, this takes the form of avoiding the plight described by Reinhold Niebuhr, that there "is nothing so absurd as the answer to a question that is not asked." Existentially, the recognition of the ultimate nature of the religious sense, together with our finite condition, implies the need to accept a "noble sadness" and trust that the desire we have is not in vain. As Dr. Hanby explained, we face a dramatic wager – either we are creatures made for God, with a desire for him and experiences that point us toward him, or we are deceived. Why not live the first?

In his concluding remarks, Dr. Averchi pointed out that The Religious Sense is a book that calls for existential engagement and an ongoing effort of comparison, which can often be aided by dialogue with others. Since the presentation, I have found myself more interested in judging my daily experience at the level of my heart, and discovering how even small things can be surprisingly important. I look forward to seeing what "interesting realizations and practical steps" may continue to occur, and especially to seeing more how the religious sense can illuminate my Christian experience and life within the Church.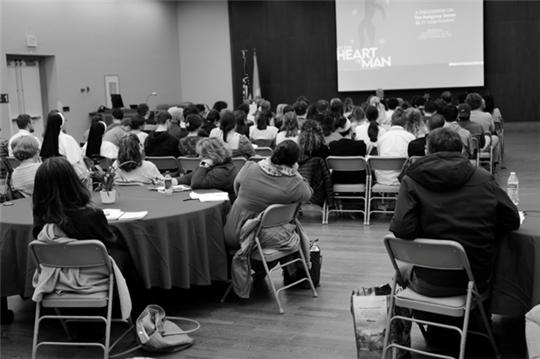 David, Washington, DC