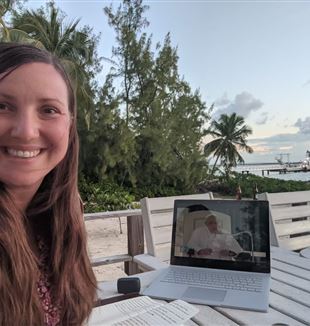 A Tenderness that Draws Near
Carie followed the CL audience with Pope Francis, even from her station in the Bahamas.
At 3:30 a.m. EST on October 15th, I woke up in a dark hotel room, brushed my teeth, dressed, filled my thermos with coffee, and set out to meet the Pope. I wasn't in Rome; I was on an island in the Bahamas, and I was trying not to be sad about it.

When the announcement came that the Pope wanted to meet us on Fr. Giussani's 100th birthday, I almost bought a plane ticket on the spot. But when I found out my new squadron's schedule had us on the island for training in October, I knew I wouldn't be able to stand in St. Peter's Square with tens of thousands of my closest friends whom I have never met. In the months leading up to October 15th, every time someone mentioned our meeting with the Pope, a wave of disappointment washed over me, but hidden inside was also a curious invitation to follow what He is doing with me, and for me, now. One of the greatest friends He has given me told me once, "Carie, either He has lost track of you, in which case He's not the Lord of the Universe, or this is how He makes you more Carie." Inevitable circumstances become the most unambiguous way to follow.

In the hours before dawn I set out, walking by starlight to the Beach House – one of two bars on the Island. When I arrived, the deck was littered with the evidence of last night's festivities and frivolity, and having missed the chance to clean up after ourselves the night before, I made a small dent in the damage. I cleared away some of the beer bottles, made a spot for my computer, and settled in for Morning Prayer, songs, and videos of Fr. Giussani. Just as it had surprised me on March 7th, 2015 sitting in the third row, I was again waiting for the Pope, not as a construct, but full of a child's affection. The "Event", a word that became flesh for me in the arms of St. Peter's, changed the whole course of my life, and on a Bahamian patio in the dark I found myself praying fervently for all my friends in that square now, for myself, and for all the drinkers of the beers scattered around me that His Event might dawn again in us like a beautiful day. I found myself scanning the crowd for the faces of my friends, those from the U.S., Italy, Canada, and many other countries, and laughed out loud when I saw them. Looking intently at each face, known or unknown to me, I realized that each one can trace his story through faces and witnesses back to the life and the 'yes' of Fr. Giussani. The vein of fullness, tenderness for my own life, and my experience of the hundredfold runs through specific faces, preferences, affections, and encounters all the way back to Fr. Giussani's own story. And if I am waiting for the Pope, for the Church who "draws near to me", it is because I have inherited that love from Fr. Giussani through that chain of friends.

I can't say what it would have been like to be there, and the sadness for having missed it remains. I can say, though, that what I lived, and am living, is not a consolation prize. The witness of 60,000 pilgrims whose stories have the same accent as mine, the tenderness of the Pope who has so much esteem for us that he doesn't mince words, corrects us bluntly and clearly, who comes close to me and "knows me, knows my betrayals and loves me just the same, esteems me, embraces me, calls me anew, hopes in me, bets on me, has expectations of me" as he said to us of Christ last time we met him, these things make me jump on my chair full of the "prophetic and missionary restlessness" that I find "burning in my heart". I don't want to stand still!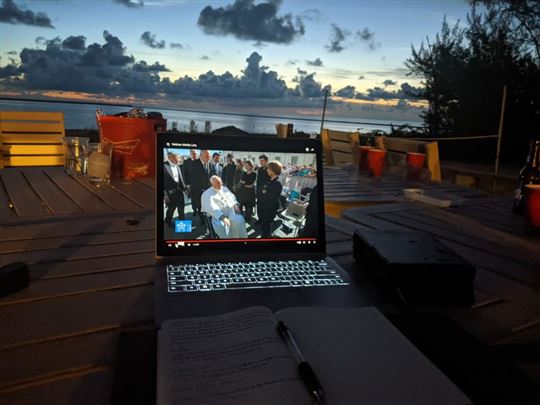 Carie, Jacksonville, FL