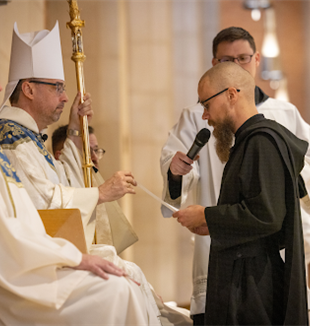 A History of Mercy
Br. Angelus reflects on his journey that led him to St. Benedict's Abbey, and that accompanies him now.
Last December, on the memorial of Our Lady of Loreto (December 10th), along with my brother monk, Br. Maximilian Mary, I professed solemn, life-long vows of obedience, stability, and conversion of life as a Benedictine monk of St. Benedict's Abbey in Atchison, Kansas. Our monastery has a custom of printing and sharing a "vows card" to remember the event, for which the monk chooses an image and quotation. For the image I photographed at sunrise a statue of Mary that was recently made for a prayer garden on the monastery grounds. She is gazing in wonder, hand on her heart, at a statue of the 12-year-old Jesus after they found him in the temple and began the trek home to Nazareth. To accompany it, I found that the most adequate synthesis of the journey that had brought me to this point, and the hope it bears for me for the future, to be the words of Laurentius the Hermit, often quoted by Giussani, "I was told everything must be received without words and held in silence. Then I realized that perhaps my entire existence would be spent realizing what had happened to me. And the memory of You fills me with silence."

What had happened to me? What had happened that allowed me to promise, before the Abbot, serenely and with certainty, though with trembling in my voice, these vows which, according to the world's mentality, are the exact opposite of freedom and self-determination, but which were, in fact, the freest and most personal words I have ever spoken? It is a question that is very alive for me and fills me with wonder at what has grabbed my life. To see its meaning unfold and reveal itself it is, as Laurentius recommends, best held in silence, asking Mary for the gift of her open, fruitful silence. But if a friend asks you to speak or write, and if this is blessed by your Abbot, it is likely a sign that the same You who moves you to silence is asking you to speak, to look again more deeply, at what has happened.

The life of the monk is summed up very essentially in the formula of the vows (where you are from, and to Whom and before whom, and on what day, you are promising these vows). As I professed I was overwhelmed by the mercy of God in that moment for me, for everybody there (and those not physically there, but who were still with me), and for all of creation. Each word was spontaneously filled with the memory of faces and events which spoke to me of this "You", where I had been met by a promise of life that shattered my own limited measure and opened up a new and greater horizon – my parents who first told me about Jesus and taught me that with Him life was ultimately positive and the most adequate response before it was prayer, my brothers and sister with whom I began to discover the adventure and difficulties and joys of life, friendships growing up and later which spurred me on to desire something more, and then an encounter in college that was the beginning of a seismic change for me, when, after complaining to my friend of the disconnect I felt between faith and life, between the beauty that moved me in the literature, art and music I was studying and the reality I faced the rest of the day, she invited to meet her friends in the CLU. I went because I wanted to find the spring from which this beauty came and I discovered in coming to their meetings and living life with them that this spring was a reality, it was something that had flesh and blood, a life capable of conquering all divisions, of generating a people – it was something that moved all of me, that I could stick to, and follow. It was, in a word, the beginning of a journey.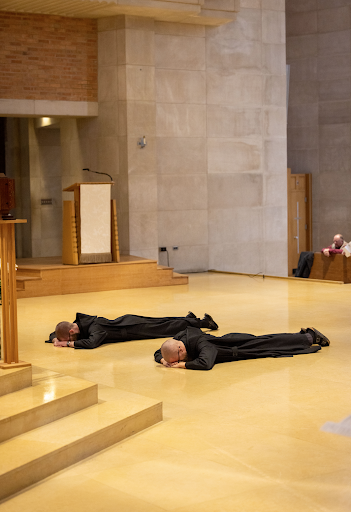 Many, many more moments over the years that followed that encounter also filled my memory, especially the miracles of change and new life I have witnessed in me and others since joining the monastery. But certainly the reason this experience which began by being invited to the CLU is so pivotally fixed in my mind is because I have seen how greatly the promise it bore for me grew through adhering, often very clumsily, to the place and people where my heart was being generated. It is amazing how so much can depend on a chance encounter! But this is how Jesus describes his kingdom – like coming across a treasure in a field. It was not my plan, but treasure is treasure so let's stay! I will always be grateful to God for Giussani and his friends who have received his charism, and who became my friends, for showing me the nature of my heart as that core and unity of myself which waits for this treasure, that I have the capacity to embrace the promise of reality with expectation and to recognize and follow with trust the One who makes it grow. This place has shown me that Christianity is the event of this treasure – of God becoming man – who remains present with us in His Church, which is a life and communion that can be touched and experienced. If the soil of my heart had not been tilled in following the experience of Giussani I wonder if the seed of the vocation would have found suitable ground to grow in. Even if I had recognized the voice of my father St. Benedict, who had begun to more seriously fascinate me around the same time I met the CLU, I would not have known how to follow and verify with my whole heart what that voice proposed, for this same method and sign accompanied my journey to the monastery and fills me now with eagerness in this new fraternity I belong to.

At their center what all these events share was chanted over us after we professed our vows and, according to the rite, prostrated ourselves before the altar to be covered by the same funeral pall which will one day accompany our bodies to the monastery cemetery. The Abbot prayed a blessing, consecrating us to God, and asking God to "Help them to fulfill in faith what you have enabled them to promise in joy. Keep always before their eyes Christ, the Divine Teacher." Then, as the pall was being lifted, we heard sung, "Awake, O sleeper, rise up from the dead, and Christ will give you light."

So this history which spontaneously filled my vows with memory, what is its consistency? I can only call it a history of Mercy, a history of the leap of the heart at the new light which breaks through again and again the darkness of my thousand deaths of forgetfulness and refusal. A history which gradually, in time, in the stability of a "Yes" constantly renewed by the grace of the Spirit in this companionship, grows new and unconquerable Life. And Life communicates itself. At the vows mass I was conscious of being surrounded by a cloud of witnesses – the saints whose friendship and help have accompanied me and were invoked again for us as we lay prostrate, my brothers in monastic life, alive today and in past ages, who had been called to commit their lives to the same form of witness, of the people who filled my memory and the church from all walks of life, old and new friends (some who I had just met the summer before who had driven from many states away to be there) who were there because they recognized in this moment a sign of the Love which embraces their existence and whispers again that incredible word: Hope. Their presence now stands out in my mind as a reminder that this life we have been given, this company, is generated by an Other, in accordance with His plan to conquer death and raise us to new Life, even today.

If the profession of vows was merely a solitary declaration of will it would be, in the end, nothing. Rather, as the Abbot reminded us in his homily, what was happening, what was beginning on that day was not, first of all, our work, but a response to something that is already happening in us, to the One who is always at work, and who is always faithful. And from the questions and stories I heard during and following the reception where we ate and sang (and, for some, danced) together, it was evident this was not just a "private interpretation"; I was not the only one who saw this with wonder. What moves us, what we await really is a new life that knows no limit, a people who sing with a reason, an impossible unity that is nonetheless present. These are what make my heart ask, Who are You who have touched our lives, who has called us to Yourself? And, crucially, every day, Could this be possible also for me?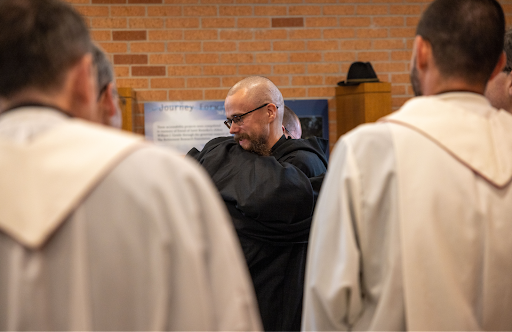 Br. Angelus, St. Benedict's Abbey, Atchison, Kansas