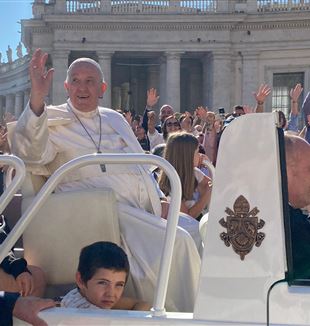 A Call That Resounds
Reflecting on his pilgrimage to Rome, Alessandro recalls the origin of his discovery of his vocation.
In 2001, after graduating, I visited a friend who entered the seminary of the Fraternity of St Charles Borromeo in Rome. We spent a few days together and he showed me many places in Rome I never visited, among which the Church of St Louis of the French.

There, for the first time, I saw "The Calling of St. Matthew" by Caravaggio where Jesus calls Matthew to follow Him and Matthew is standing up, still with a hand on the money he collected, to follow Jesus. While I was watching the painting, a tour guide was explaining the painting to an English-speaking group, and I remember being really captured by it. I felt there was something I was being told, something fascinating.
The following two years were personally difficult, as I was struggling with questions about my vocation, and, at the same time, I was growing apart from the Movement that I met when I was thirteen. After so many years I was losing sight of why the Movement was useful for me.

In 2003 I moved to Liverpool (UK) for work, for the first time outside Italy, and I thought that that was my opportunity to reset my life and understand what was really important to me. After three weeks, on an early Sunday afternoon, I was in a pub drinking beer and watching a soccer game and got a call on my cell. It was Riccardo, a guy I never met before, telling me he was from the Movement in Manchester (UK) and he wanted to meet me. That was my Zacchaeus-like moment. I left the half full glass of beer on the table and the soccer game still on and went home to prepare dinner because I wouldn't let these friends leave before having dinner together at my place.

When I met Riccardo, and the other friends that came to see me that day, my heart leapt. Through the friendship with him I understood again why I followed the Movement all those years, and so I started to walk again ("The road is beautiful for those who walk"). A year and a half later I finally understood Christ was calling me to follow the path of Memores Domini, which I started in 2005.

On Friday, the day before the audience with Pope Francis, I went back to St. Louis of the French to see that painting again and there I met, by complete chance, Riccardo. But I also met a person who started the novitiate of Memores Domini with me whom I had not seen for almost ten years. Through this "coincidence" God was calling me again.

With my heart full of joy for the re-happening of the most important event of my life (the call to my vocation) I arrived in St Peter's square on Saturday. There, the beauty that captured me when I was thirteen captured me again: the thousands of people in the square in a very orderly manner, the silence and the beauty of morning prayer in recto-tono, the excitement when Pope Francis arrived, and his words calling me again and asking me to share - where I am - the beauty of the charism I received and my vocation.

I lived what Fr. Leopori told us at the Exercises of the Fraternity: like John I need to follow Peter to experience the presence of the Risen One.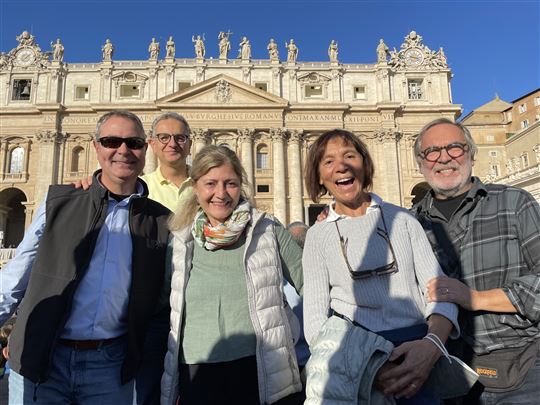 Alessandro, New York, NY